"I tell the world, 'Make in India'
Sell anywhere but manufacture here.
We have the skill and talent for it."


– NARENDRA MODI
MAKE IN INDIA
Since years policy-makers have been debating how to give an impetus to manufacturing in India and make India a Global Manufacturing Hub. But it is Narendra Modi, who within a matter of months, launched the 'Make in India' campaign to facilitate investment, foster innovation, enhance skill development, protect intellectual property & build best in class manufacturing infrastructure.
The "Make in India" initiative is based on four pillars, which have been identified to give boost to entrepreneurship in India, not only in manufacturing but also other sectors.
'Make in India' recognizes 'ease of doing business' as the single most important factor to promote entrepreneurship. A number of initiatives have already been undertaken to ease business environment. The aim is to de-license and de-regulate the industry during the entire life cycle of a business.
Availability of modern and facilitating infrastructure is a very important requirement for the growth of industry. Government intends to develop industrial corridors and smart cities to provide infrastructure based on state-of-the-art technology with modern high-speed communication and integrated logistic arrangements. Existing infrastructure to be strengthened through upgradation of infrastructure in industrial clusters. Innovation and research activities are supported through fast paced registration system and accordingly infrastructure of Intellectual Property Rights registration set-up has been upgraded. The requirement of skills for industry are to be identified and accordingly development of workforce to be taken up.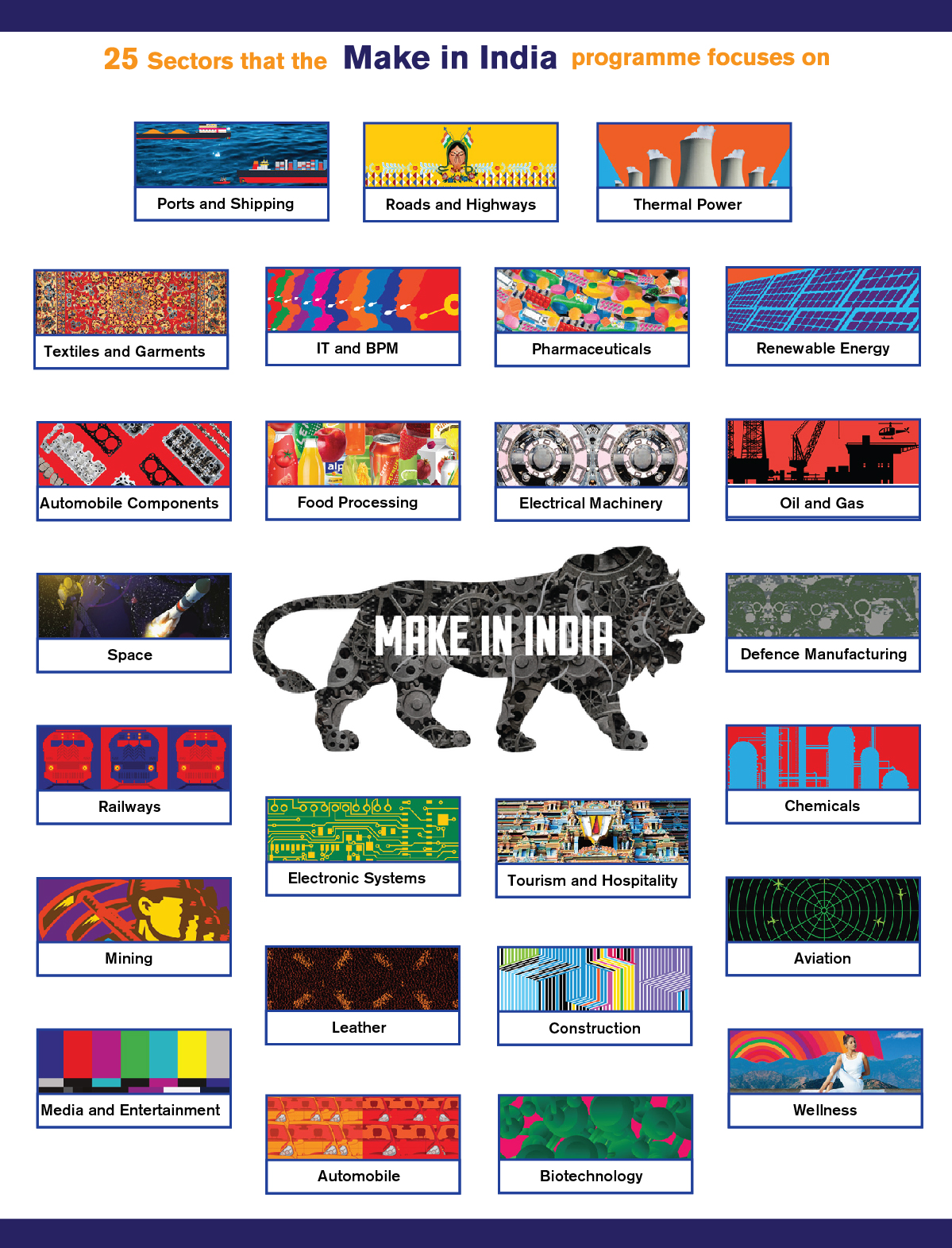 'Make in India' has identified 25 sectors in manufacturing, infrastructure and service activities and detailed information is being shared through interactive web-portal and professionally developed brochures. FDI has been opened up in Defence Production, Construction and Railway infrastructure in a big way.
An array of measures focused on the ease of doing business in India have also been launched under the Make India program. Brand new, IT-driven application and tracking processes are replacing files and red tape. A number of new initiatives have been launched in order to streamline and rationalise licensing rules at the state government level, aligning them with global best practices.
From amendments in Labour law to online filing of returns & from rationalization of the regulatory environment to increasing the validity of industrial licenses, a lot of changes have been ushered in to make 'Make in India' a reality.
Today, India's credibility is stronger than ever. There is visible momentum, energy and optimism. Make in India is opening investment doors. Multiple enterprises are adopting its mantra. The world's largest democracy is well on its way to becoming the world's most powerful economy.